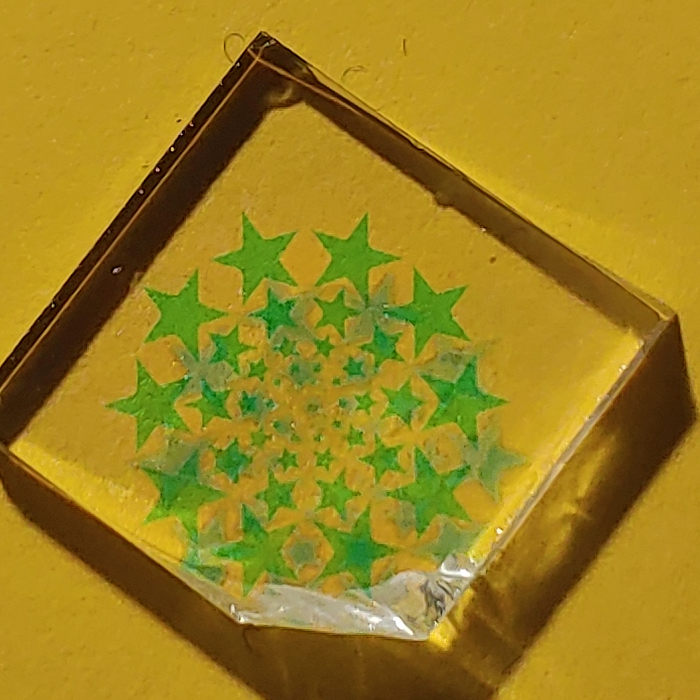 CBS Dichroic Laser Etched Design ( Small size ) on Thin Clear System 96 #047
CBS Dichroic Laser Etched Design, Size is Small, Thin Clear Oceanside Compatible™ System 96®    #047
Approximate size of the Small Lasered Dichroic area is: 1/2 Inch
The image is of the one that will be sent to you in your purchase. 
Do look closely at our photo to see the pattern & color to choose just the right one for your project.
It is amazing how the colors do change as per the color set under the Dichroic Lasered area.  
Our having the control of the hue to be by having dichroic on clear glass makes our art time even more interesting.
Over the years many of my in shop glassy's are surprised when I show them the difference of hue by setting dichroic onto different colored bases.  They as many are attracted to purchasing dichroic glass on black due to it really pops on black.  But then there is no variation of fun hue choices.
The images on the thin Oceanside Clear glass are produced in a coating process of Dichroic by CBS, giving each has multiple color variations as well as fine "Halo's" of color surrounding all perimeters of the image.
It is really fun to use the Pinwheel on Blue, Red, Green, Purple, Black or any other color of your choice to have the finished look be very individual.  Simply set your Pinwheel onto those colors and see the difference in the hue to make your base color choice.
Can be fired with the Dichroic Up or Down.  These Laser Dichroic are terrific for earrings, pendants or additions to our colorful art designs.
Helpful hint:  I trim them to be more rounded prior to fusing them.
Wishing you happy glassing times ahead,
Irene - The happy glass gal