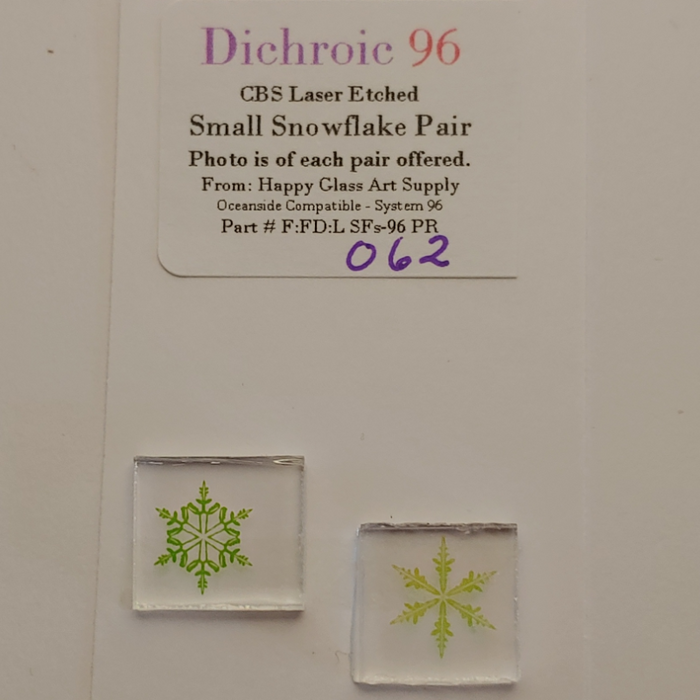 CBS Dichroic Laser Etch Snowflake Small size (Fun Pair) on Thin Clear System 96 #62
Save

Liquid error (snippets/product-badge line 32): Computation results in '-Infinity'

%
CBS Dichroic Laser Etch Snowflake Small size (Fun Pair) on Thin Clear Oceanside Compatible™ System 96®    # 62
Due to the custom nature of these CBS Laser Etch Small Snowflakes each pair is different in hue and shape of lasering.  We offer one of each pairing that I thought would be neat together in art and/or for jewelry.
When ordered there will be the pair that you have chosen with glue strip holding them in place on the paper that is well labelled inside of a re-closable Poly bag.
Approximate size of the Dichroic Laser Etch Snowflake is1/2"
CBS Dichroic Laser Etch Snowflake Small size normally comes in a 20 pack that are very hard to see while in the pack and very expensive.
Terrific to use in glass art fusing, mosaic and stained glass. 
These CBS Dichroic Laser Etched Snowflakes are so pretty in person and some look like flowers and would be neat on a stem of stringers of glass.
I have made fun pairs to offer you for a very reasonable price and given the extra effort in the photo taking time to share with you the shape and a couple of hues.
It was a pleasure to be able to put together the fun pairs to offer and take a photo of each pair at two different angles to be able to share with you a better visual so that you can more easily chose the style and colors for your choice.
The Dichroic Laser Etch Snowflake does change its hue when put onto different colors of glass and that is very fun for us to do.
Do look closely at our photo to choose just the right one for your project.
It is amazing how the colors do change as per the color set under the Dichroic  area.  
Our having the control of the hue to be by having dichroic on clear glass makes our art time even more interesting.
Over the years many of my in shop glassy's are surprised when I show them the difference of hue by setting dichroic onto different colored bases.  They as many are attracted to purchasing dichroic glass on black due to it really pops on black.  But then there is no variation of fun hue choices.
The images on the thin Oceanside Clear glass are produced in a coating process of Dichroic by CBS, giving each has multiple color variations as well as fine "Halo's" when fused in an up position for color surrounding all perimeters of the image.
It is really fun to use on Blue, Red, Green, Purple, Black or any other color of your choice to have the finished look be very individual.  Simply set your Fusible Dichroic Heart onto those colors and see the difference in the hue to make your base color choice.
Can be fired with the Dichroic Up or Down. 
Helpful hint:  I trim the clear glass to be more rounded prior to fusing them.
Wishing you happy glassing times ahead,
Irene - The happy glass gal